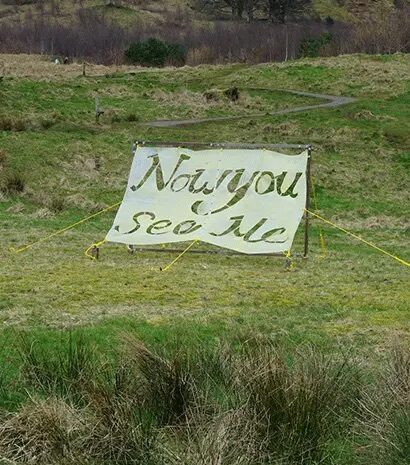 SeeVa Dawne
SeeVa/say my name
BFA3 – School of Art – Art
PVC on steel frame, cyanotype backboard
3 x 2.1 x 2 meters
Now You See Me is a site of encounter. It shares its name with the artistic working group and mutual aid instagram account, "Now You See Me Moria" that documents the struggle of Afghan refugees on the island of Lesvos, Greece.
As a physical shelter at Calarts, it provides an environment for others to experience the ephemeral nature of light. The light being cast in the shape of the letters is a call to transmute the idea of the refugee crisis into a life affirmation.
The display will also exist as a working studio for the artist. Utilizing the lighting conditions that fluctuate throughout the day, varied cyanotype compositions up to three metres can be made within the interior corridor. Completed cyanotype prints have the possibility to be hung outside the display creating an open air installation in a adjacent field.