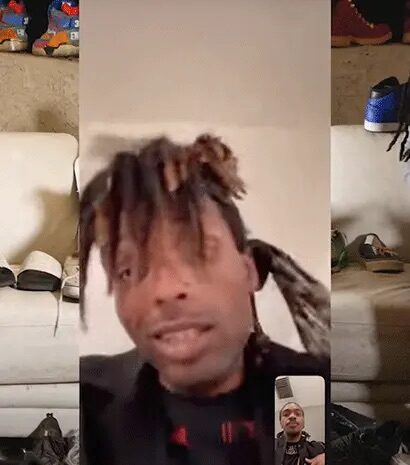 Sage Michael Stone
he/him
BFA2 – School of Theatre – Acting
"Shoes at the Door" is the second music video collaboration between Dean Cee, DoloDuceDuke, and CalArts Actor/Director Sage Michael Stone. Their first collaboration, "Spacy Kacy", was released back in September of 2021 and gained over 40k views in just under a month. Dean and Dolo are members of LA rap collective, HiiiTriiibe, who's self named mixtape dropped March 26th.
"Shoes" follows Dean Cee and DoloDuceDuke as they wait on two young women to get ready for a concert. The rappers plead with their dates to hurry up so they don't miss the beginning of the show while their preparation routine quickly becomes less rational and increasingly frustrating. When they finally leave the apartment and get in the car, it becomes clear that after all the rushing and pressure they put on the women, the men have overlooked one important thing. Bringing the tickets.
Concept, pre-production, and shooting took place during CalArts Winter Session 2022. "Shoes at the Door" dropped on YouTube March 15th.
Musicians – Dean Cee, DoloDuceDuke / Actors – Michael Lillian, Yazménne Archer / Director, Producer, Lighting, and Cinematographer – Sage Michael Stone / Editor – Andrew David Patterson, Retro Grime Studios / Extras – Zoë Hughes, Jillian Henry, Chloe Le Lievre, Queezy, Papa Juice / Mastering – Allen Chen / Translation – Sanghun Kim / Mixing – Leonard Carter